Thanksgiving Food Baskets Program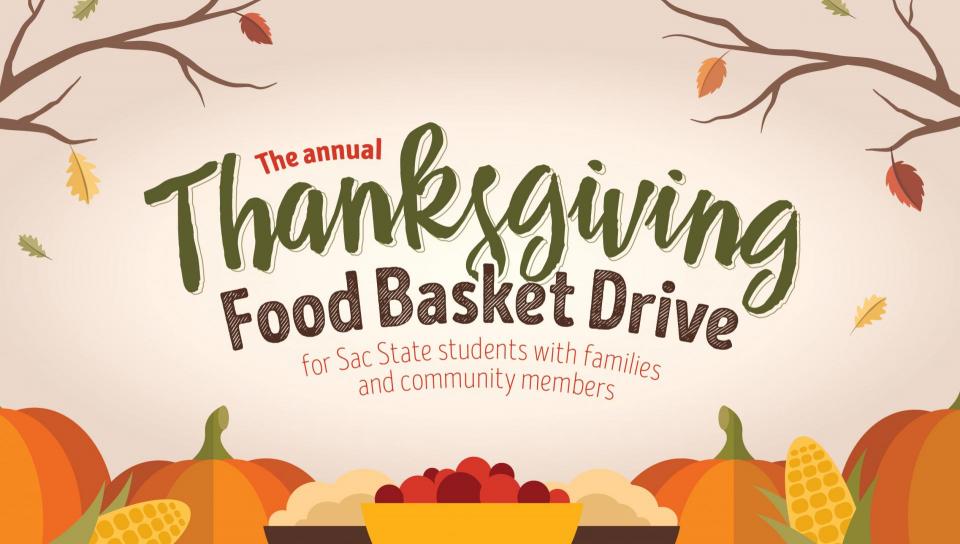 Thanksgiving is just around the corner! ASI needs your help to support families in need this holiday season. Some of our community members are struggling to make ends meets through these unprecedented times. We want to do our part to make sure Thanksgiving is not canceled this year, please, join us through donating!
How to Donate:
We will be accepting physical and monetary donations this year. All physical and monetary donations will be used to create a basket of food that will support students and their families as well as families in the greater Sacramento area. ASI partners with representatives from Sacramento schools and church communities in order to provide holiday resources to families in need.
If you would like to donate food items:
To ensure the safety of our employees, donors and food basket recipients, we will be operating a drive-thru donation drop off. Donating during the drive thru will also earn you Leadership Initiative Service Credit!
Location: Children's Center Parking Lot 7
Dates and Times:
Thursday, November 5th: 3:00pm-6:00pm
Thursday, November 12th: 9:00am-12:00pm
All the following items are required for a complete basket:
4 Cans of vegetables (green beans, corn, mixed vegetables)
2 Cans of fruit (peaches, pineapple, cocktail mixed fruit)
2 Cans of cranberry sauce
2 Cans of gravy
2 Cans or cartons of chicken broth
2 Boxes of cornbread mix
2 Boxes of mac & cheese
1 Graham cracker pie crust
1 Box of mashed potatoes
1 Box of stuffing mix
1 Can of pie filling
If you would like to contribute monetary donations:
Monetary donations will be used to purchase a basket of food items for students who need support but are relocated out of Sacramento due to campus closure. For every $35, ASI can purchase all the items that will be included in the basket are listed above.

If you are interested in making a monetary donation, you can donate online HERE.
If you would like to give by mail, please make checks payable to:
Associated Students, Inc. with "Thanksgiving Baskets" in the memo.

Please mail to:
Associated Students, Inc. at Sac State | Attn: ASI Food Pantry
6000 J Street | MS 6011 | Sacramento | CA | 95819
Compete for the Golden Plate Award!:
When donating in person at the Drive-Thru Donation drop off, we will take down your department name or club/organization name and take a full count of how many baskets were donated by your group. The student organization and campus department that contribute the most will win ASI's Golden Plate Award!
When donating online, make sure you fill out your department or club/organization name to have it counted as well!
Reserving a Thanksgiving Food Basket:
Do you or another Sac State student need a basket? Students can reserve a basket using this link: bit.ly/reserve2020basket
Faculty and Staff, if you know of a student who is in need, you can reserve a basket on their behalf following the same link above.