Virtual Basic Needs Forum
College students today regularly struggle to get their basic needs met, and CSU students are no exception. At the start of this academic year, the ASI Board of Directors identified hosting a Basic Needs Forum as a strategic priority that we felt would help inform students what is being done by their local and state elected officials, and give them the chance to engage in the discussion. Planning had begun for the event and invitations had been sent out when the COVID-19 crisis forced the CSU system to cancel on campus events and shift instruction to online in March. With this system-wide change in place, we have transitioned this forum online and allowed for video submissions by our participants answering the questions we intended to ask.
Our speakers include Mayor of Sacramento, Darrel Steinberg; Councilmember Eric Guerra; Senator Steve Glazer; Assembly member Shirley Weber; and Assembly member Kevin McCarty. Our Assembly members were asked questions regarding what the state can do for college students regarding the topics of Housing Insecurity, Food Insecurity, and Mental Health programs. Our local officials were asked the same questions but focused on what the City of Sacramento and local government can do regarding these issues.
Basic Needs Videos
Darrell Steinberg (Mayor of Sacramento)
Eric Guerra (Sacramento City Council-District 6)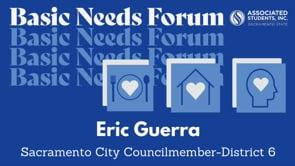 Kevin McCarty (CA Assemblymember-District 7)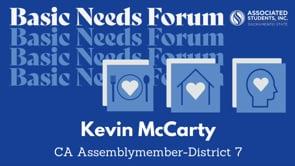 Shirley Weber (CA Assemblymember-District 79)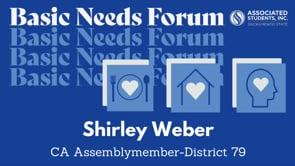 Steve Glazer (CA Senator-District 7)