Resources For Students Facing Food Insecurity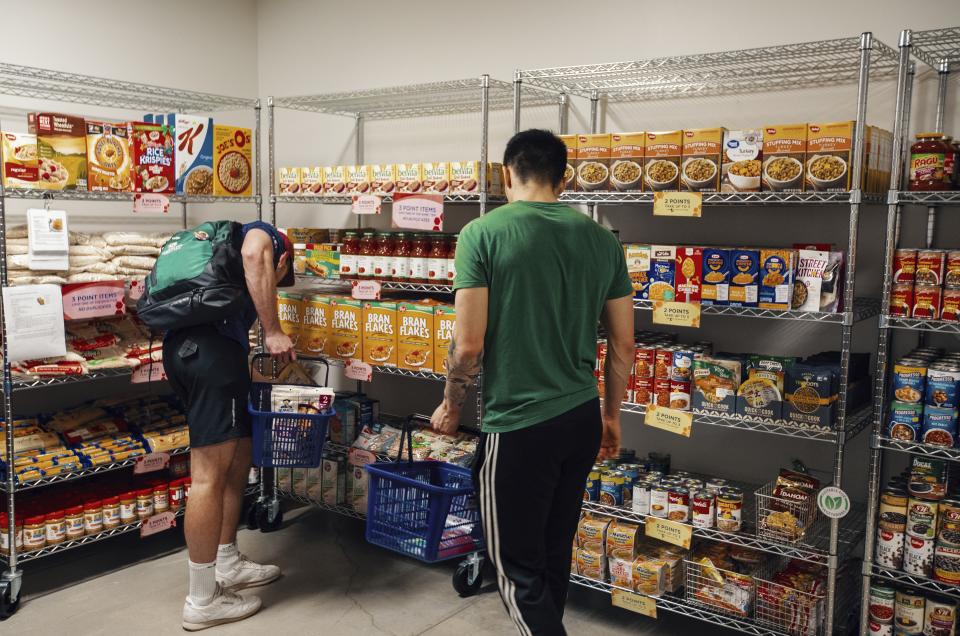 The ASI Food Pantry was created in 2015 to support the growing number of students faced with food insecurity, the state of being without reliable access to a sufficient quantity of affordable, nutritious food. The ASI Food Pantry works alongside the CARES office to support Sacramento State students in need.
There are a variety of resources both on and off campus which can assist students in need.
COVID-19 RESOURCES
OnwardCA is an initiative of foundations and companies to get workers displaced by COVID-19 essential life services and back to work as quickly as possible.
Thousands of organizations, including non-profits and neighborhood groups, are helping people affected by COVID-19 all across the country. FindHelp pulled these programs into one location. Just enter your zip code to find local programs to help you get food if you can't afford it, bill payment assistance and other programs that serve your area.
Here, you will find a variety of resources to meet the housing, food and financial needs of students. Basic Needs are the minimum necessary elements that people need in order to succeed in their goals; these include food, clothing, shelter, safety.
If you are experiencing challenges with food access, housing, or finances, Sacramento State wants to ensure you have resources available to you in your time of need.
https://www.csus.edu/student-affairs/crisis-assistance-resource-education-support/resources.html
Food Resources
CalFresh is a nutrition assistance program that helps low-income individuals and families buy the food they need. CalFresh is the name of the USDA-funded Supplemental Nutrition Assistance Program (SNAP) in the state of California. Students can be eligible for up to $192/month, or more depending on household size.
This map shows Sacramento-region food resources including food banks, food pantries, free fridges and pantries, farmers' markets, and farm stands (including information regarding EBT/CalFresh access). This map was generated with data provided by NorCal Resist, the Sacramento Homeless Union, The Awkward Gardener, and Alchemist CDC.
Nutrition Counseling is an opportunity for our students to meet with our Registered Dietitian Nutritionist who provides nutrition therapy for a variety of nutrition related health issues including weight management, diabetes, heart disease, eating disorders, and other medical diagnosis.
River City Food Bank provides short-term food access for those who meet income guidelines. Eligible clients receive a three-day supply of nutritionally-balanced food up to once a month.
Sacramento Food Bank & Family Services is committed to connecting neighbors in need with services and providers to address the socioeconomic issues of our community. Current partnerships with over 220 local agencies allow us to distribute food to individuals and families in under-served areas throughout Sacramento County.
Those who attend Produce for All distributions receive at least five different fruits and vegetables which average between 15 and 30 pounds. Recipe cards and other resources are offered and clients can apply for CalFresh during Produce for All Distributions. Produce items are bagged and clients are asked to bring a reusable bag or cart to transport their items. There is no proof of address or income requirement – all are welcome.
Financial Resources
The Student Emergency Fund assists students who experience a financial emergency or unanticipated expenses causing short-term financial hardship that requires immediate attention to keep them in college. This program is designated to assist those who cannot reasonably resolve their financial difficulty through scholarships, loans or other Financial Aid awards.
Sacramento State's Financial Wellness program offers information on budgeting, paying for college, healthy financial habits, and many other tools to help you stay financially fit throughout college and beyond.
Housing Resources
The program provides short term housing assistance to students who are unexpectedly displaced from their homes. Students must meet with the Student Affairs Case Manager for a basic needs assessment, and may qualify for up to 30 days in the residence halls. On a case by case basis, students may also receive a meal plan which provides 2 meals a day in dining commons.
Sacramento Steps Forward is nonprofit organization committed to ending homelessness in our region through collaboration, innovation, and connecting people to services. Walking side-by-side with partners, they seek to provide people experiencing homelessness with the support and services they need to find stability and long term housing.
The Francis House Center strives to provide the resources, support, and inspiration to help individuals and families transform their lives from living in crisis to having long-term stability. Francis House Center is the front door to Next Move's programs, services, and housing solutions for individuals and families seeking help and support in ending their homelessness.
Sacramento Self Help Housing assists persons who are homeless or at risk of becoming homeless to find and retain stable and affordable housing.
Other Resources
A professional lawyer is available every other week for free legal advice. 30min appointments can be scheduled online.
The Sacramento State Crisis Assistance and Resource Education Support (CARES) office provides support to students who are in crisis or experiencing unique challenges to their education.
2-1-1 Sacramento, a program of Community Link Capital Region, is a free confidential information and referral service that is available 24 hours a day, seven days a week. Trained information and referral specialists can refer callers to a variety of service that best meet their needs.