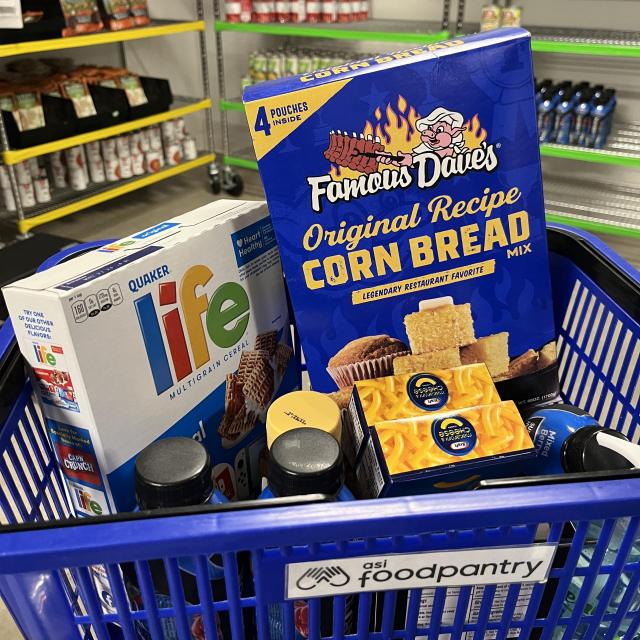 The ASI Food Pantry relies on the generous donations from our community! We accept food & monetary donations year round and host special food drive events. Click the tabs below to find out more about the current ways to support.
Food & Toiletry Donations
We accept:

Non-perishable items, menstrual products, and toiletries.
Students like low-sodium, low-sugar, low-processed items.

​We CANNOT accept:

Opened items, perishable items including refrigerated/frozen.

Walk-In Drop off:

​Monday – Friday, 9am – 4pm, ASI Student Engagement & Outreach Office, University Union, Room 1240.

Scheduled Drop off at Parking Lot:
If you need a donor acknowledgement receipt or plan to donate a large number of items, please call us at (916) 278-9678 or email us at asi-foodpantry@csus.edu so we are prepared to receive your donation. THANK YOU!
Items Best Suited for our Food Pantry
List is updated regularly as needs change. (Last updated: 9/13/2022)
Variety of Rice options
Variety of Pasta options
Bread
Spices (salt, pepper, garlic powder, ground cumin, curry powder, etc.)
Nuts & healthy snacks
Canned Meats
Canned Soups
Tomato paste
Toiletries
View the SYC Donation Guide below for examples of culturally relevant items we are in need of.
Monetary Donations
Online:
Click "Donate Online".
Select "ASI Donations".
Select "ASI Food Pantry Donation".
Note: There is currently no option to set up recurring payments
How to write a check for the ASI Food Pantry
Checks should be made payable to Associated Students, Inc. with the memo: ASI Food Pantry Donation.
You can drop off monetary donations (checks or cash) at the ASI Student Shop, located in the University Union, 3rd Floor, Room 3231
Address:
To mail a donation or a check, please send to:
Associated Students, Inc. at Sac State
Attn: ASI Food Pantry
6000 J Street
Sacramento, CA 95819-6011
Please review our Amazon Wish List to send donations directly to the ASI Food Pantry!
If you would like a Tax ID Donation Acknowledgement Letter sent you you for your Amazon Wish List Donation, please message asi-foodpantry@csus.edu