Community donations help us cover everything from new fridges to bigger bins of local fresh produce for all of the students that depend on the ASI Food Pantry!
Click below to learn more: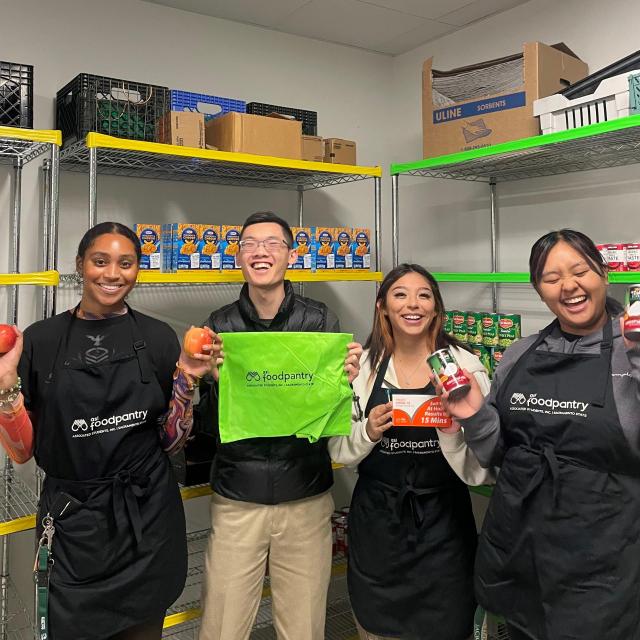 Monetary Donations
Online:
Click "Donate Online".
Select "ASI Donations".
Select "ASI Food Pantry Donation".
11/17/2022 Update: We have added a recurring/scheduled donation option!
How to write a check for the ASI Food Pantry
Checks should be made payable to Associated Students, Inc. with the memo: ASI Food Pantry Donation.
You can drop off monetary donations (checks or cash) at the ASI Student Shop, located in the University Union, 3rd Floor, Room 3231
Address:
To mail a donation or a check, please send to:
Associated Students, Inc. at Sac State
Attn: ASI Food Pantry
6000 J Street
Sacramento, CA 95819-6011
Food & Toiletry Donations
We accept:

Non-perishable items, menstrual products, and toiletries.
Students like low-sodium, low-sugar, low-processed items.

​We CANNOT accept:

Opened items, perishable items including refrigerated/frozen.

Drop-Off Options:

​Monday – Friday, 9am – 4pm, ASI Student Engagement & Outreach Office, University Union, Room 1240 OR
Monday – Friday, 12pm – 2pm, ASI Children's Center, Classroom La Casita #3 (park in the green 15 minute loading zones and look for our signage).
Scheduled Drop off at Parking Lot: ​Please leave us a voicemail at 916.278.3978 or email us at asi-foodpantry@csus.edu
If you need a donor acknowledgement receipt or plan to donate a large number of items, please call us at (916) 278-3978 or email us at asi-foodpantry@csus.edu so we are prepared to receive your donation. THANK YOU!
Items best suited for our student community:
Last updated: 2/23/2023
Spices (salt, pepper, garlic powder, ground cumin, curry powder, etc.)
Individually packaged, single-serving snacks
Toiletries (toilet paper, toothbrushes, toothpaste, shampoo, conditioner, bar soap, etc)
View the SYC Donation Guide below for examples of culturally relevant items we are in need of.
Legacy Giving
Leave a planned gift in your will
Gifts by will are one of the ASI Food Pantry's most important sources of support. Unrestricted gifts give us the greatest flexibility to use funds where they are most needed.
You may leave:
A stated dollar amount
A percentage of your residual estate (what remains after gifts to loved ones and expenses have been paid), or
A specific asset, such as securities or other marketable property
How to name the ASI Food Pantry in your will
Legal name: Associated Students of California State University, Sacramento
Address: 6000 J Street, Sacramento, CA 95819
Federal tax ID#: 94-1347023
This sample language may be useful:

I, [name], of [city, state, zip code], give [fixed dollar amount; percentage of the estate sale] to the ASI Food Pantry, Associated Students of California State University, Sacramento. If at any time, in the judgment of the Board of Directors of The University Foundation at Sacramento State, it is impossible or impracticable to carry out the designated purpose, the Foundation shall determine an alternative purpose as near as possible to my/our designated intent.
Notifying us of your gift
If you have any questions, please contact Lora Hollingsworth, Director of Planned Giving, at 916.278.6115 or lora.hollingsworth@csus.edu
Please review our Amazon Wish List to send donations directly to the ASI Food Pantry!
If you would like a Tax ID Donation Acknowledgement Letter sent you you for your Amazon Wish List Donation, please contact Ryan Choi, ASI Food Pantry Coordinator, at 916.278.3978 or ryan.choi@csus.edu